Load testing is putting a system through minor strain to calculate its response time, and this is how it's done. First, the user will either run software/
hardware
meant for load testing, or a program the user finds demanding to the system. Second, the user will run a program to time how long it takes something to load, and depending on the software on the system it can take a while. The time the system scores, will be known as the response time, and measures the system performance. All of this is done during load testing.
What is Stress Testing and How is It Done
Stress testing is when software/hardware on a system is meant to slow down, or even crash a system. This stress testing method is meant to show the maximum performance of a system, and what software can be run on a system until it breaks. This is how many software developers can recommend system requirements before you download their software.
What is Concurrent User Testing and How is It Done
Concurrent user testing is a test to show the performance power of a server/website. It tests how many users can be accessing a function, or commands near the same time interval. Concurrent users are defined as users who use a function on a server frequently and all live near the same area which may be bots or humans/one human. This is to make sure the server can handle traffic without short-cutting and leaving vulnerabilities (for more on this,
look here
or check out
Loadview-testing.com
).
For a real life, example think of an airport in a slow month. The few people that come through are properly checked, and the security does not have much pressure (think of the security as the server security). The next day, however, is the start of spring break, and there are way too many people flying out in a small airport. This puts pressure on security making them more vulnerable to miss something, and in the server's case possible hackers.
All these together can test the computer a server may be running on, its max capabilities, and its possible security risks. These tests work hand-in-hand to keep a website on its top game while providing its users with the best possible user experience possible and keeping it safe from potential hackers.
Powered by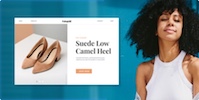 Create your own unique website with customizable templates.